Millions of men are unsatisfied with the size of their penis. If you feel this way you are certainly not alone; it is estimated 45 percent of men desire increased penile length. Confidence issues may arise when a man is not happy with his size, and relationship problems often develop due to this lack of confidence. Understanding how penis enlargement works allows men to determine how our solution will work for them. The Andropenis penis enlarger is an effective device which can be used discreetly under the clothing to provide a gradual increase in penile length and girth over a period of six months or more.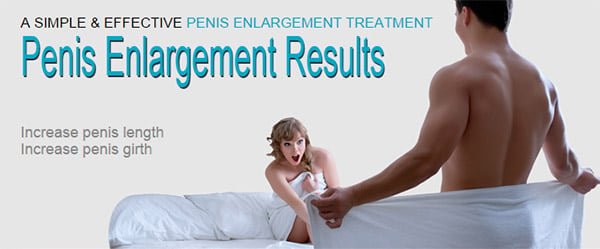 ABOUT PENIS ENLARGEMENT
Penis enlargement involves stretching the penis gradually over time to produce an increase in size. Not only does this process help with men who are simply unsatisfied with their current size, but it is also an effective treatment option for micropenis. Men who suffer from Peyronie's disease and deal with the pain or discomfort associated with significant penile curvature can also find relief through the use of our penis enlargement device.
The most effective solutions offer an increase in penile length when it is in both its flaccid and erect states. Men who feel their size is inadequate when flaccid may be embarrassed in locker room situations, while men who are not happy with the size of their erect penis may worry they are not able to satisfy their sexual partner in order to maintain a healthy sex life.
DEVICES TO ASSIST WITH ENLARGEMENT
Devices to assist with the enlargement process represent the only non-surgical way to truly experience growth results. Pills and potions often contain unregulated supplements that could cause side effects, and surgery for penis enlargement comes with inherent risks and a significant recovery time.
THE ANDROPENIS DIFFERENCE
While there are many devices which can be used for enlargement, it is important for men to choose one which is able to provide proven results. Andropenis has the unique distinction of being the only penis enlarger scientifically proven to increase penile length and girth when used as directed. Medical studies conducted at trusted and respected institutions around the world have shown again and again these results are legitimate.
HOW IT WORKS
Andropenis is the most effective penis enlargement device on the market with many patients reporting a high satisfaction rate. Our full range of Andropenis packages means patients can choose the penis enlarger which will provide them with the best results for their situation. Understanding how it works will help men determine whether they are ready to take advantage of the real opportunity for the penile growth Andropenis offers.
The Andropenis penis enlarger utilises the principle of traction in order to provide these results. Traction is a concept that is used by plastic surgeons to successfully use skin grafts. This concept is also used when surgeons perform limb-lengthening surgery.
While traction has medical applications in the modern world, it has been used by tribes in Africa and South America for hundreds of years. The hoops and disks used to elongate necks, earlobes and lips use traction to gradually lengthen the associated body part to provide an alteration.
Our penis enlargement device works to place a small amount of pressure on the penile shaft which causes micro-tears to form in the tissue. Gradual progress means this process does not cause pain or significant discomfort. The body will then naturally fill in these tears with new tissue, and the end result is an increase in size. Not only does Andropenis add length through the use of traction, but girth is also increased. The program is over 6 months with average gains in length being 2 inches and average gains in girth being 1 inch.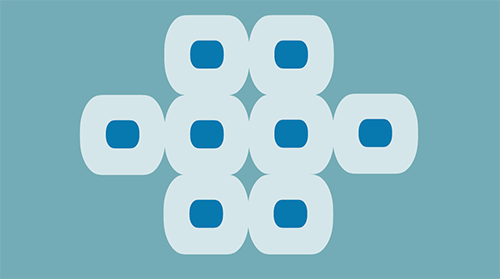 USING ANDROPENIS
The Andropenis enlargement device is a tool that is made to be easy for users to understand. While the included instructions use simple language and visual aids to walk users through the application of the device, getting to know more about how it will work before making your purchase will help patients understand the device will not significantly impact their quality of life.
The device is placed over the penile shaft, while comfort bands keep the penis securely in place without causing discomfort. Pressure is gradually placed on the shaft to start the lengthening process, and results depend upon how long the user wears the device each day. The included instruction manual details two different programs patients can use, Standard Method and Special Method, and one can elect among the two models.
One major feature of Andropenis is that it is designed to be worn discreetly under the clothing and can be used during any activity. Since it is possible to wear the device while at work, the gym or even spending time with friends, men are able to get the best results by wearing Andropenis between four and nine hours each day. If a break is needed throughout the day, it is easy to remove the penis enlarger and put it back on later in the day.
While men may be concerned when noticing that the girth of their penis increases before length starts to increase, this is a normal occurrence. Growth in the size of the flaccid penis is most apparent in the beginning, and an increase in the size of the erect penis will be noticed with continued use. With correct usage patients will find gains will begin to appear after 4 to 6 weeks. An improvement in erection quality and an increase in sexual libido are other benefits from using our device.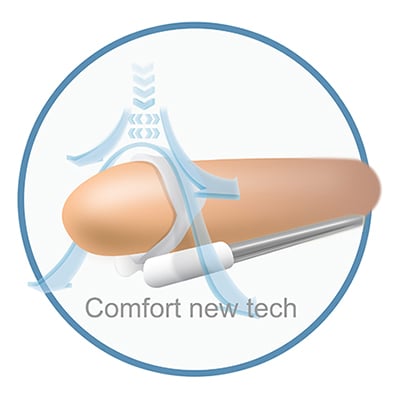 GROWTH RESULTS
The most important factor patients should take into consideration when deciding whether to purchase an Andropenis device is whether it has been successful for others. There are many medical studies conducted in relation to the effectiveness of our device, and examining these results can highlight just how effective Andropenis can be.
A study conducted at Italy's Hospital SGB of the University of Turin concluded Andropenis is an effective means of providing an increase in both penile length and girth. This study also concluded our penis enlarger was able to provide results without the invasive nature of surgery, and growth is present in both the flaccid and erect state of the penis.
Another study conducted in Spain's Hospital GM of the University of Madrid found patients who wore our device for four months saw an average increase in penis size of between 1 and 4cm. Studies show the average increase in the size of the flaccid penis is 6 cm after six months of regular use.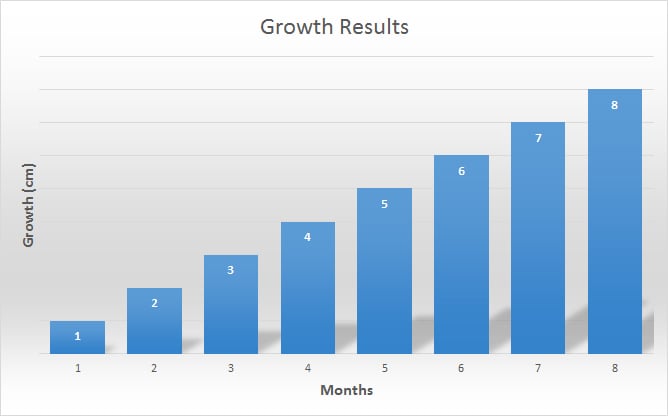 ADDITIONAL BENEFITS
Enlargement is not the only benefit Andropenis provides. Patients who suffer from penile curvature known as Peyronie's disease can correct this curvature by regularly wearing the device. This can reduce pain associated with curvature and make it possible for men to engage in sexual intercourse with their partner without having to worry about the discomfort that is often associated with Peyronie's. By placing pressure onto the old scar tissue it starts to break down and the body will naturally produce new healthy cells. Patients can expect to see a complete correction in curvature for mild cases.
Another benefit is an increase in blood flow to the penis. The design of Andropenis encourages improved blood flow to allow men who are suffering from erectile dysfunction achieve an erection. When the device is being used to assist with the achievement of an erection, it can be easily stopped when confidence has been restored to allow the user to engage in sexual activity with their partner. The end result is a significantly improved sex life that can lead to increased confidence and stronger romantic relationships.
CONCLUSION
Men who feel their penile size is inadequate can get the results they want through regular use of Andropenis. Companies who sell pills for enlargement may make serious claims, but the fact that these formulas are often unregulated means consumers are risking their health by using them. No pill can provide genuine penile growth.
While surgery is an effective way to increase penile size, all surgeries come with risks. Recovery time can be lengthy, and complications like infections could arise during the recovery process. If the end results of the penile enlargement surgery are not satisfactory, subsequent surgeries pose the same or even increased risks.
Using Andropenis is the only way to effectively increase penile size without the negative effects of pills or surgery. Gradual progress means no pain and the slow and steady nature of the penis enlargement ensures results will be achieved in a comfortable manner.
In addition to the growth results Andropenis provides, the device also offers benefits like correction of penile curvature and improved blood flow to the penis in men who suffer from erectile dysfunction.
The discreet design of Andropenis makes it easy for men to reach their goals when it comes to penile growth. It can be worn anywhere and during any activity. Find out what Andropenis can do for you by purchasing the package which best meets your needs.